Bakken Oil Workers & Oil Service Expo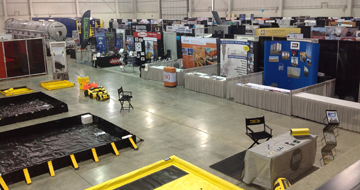 The rapid and continuous growth caused by the Bakken Boom has brought new companies and services to the region in an unusually fast and furious pace. This growth pace has not allowed for the natural "get to know your community" that happens under normal times and in the course of conducting daily business. The Bakken Oil Workers & Oil Service Expo will bring these entities together to meet each other, exchange ideas, and find new partners and services they didn't know were in the region. These new community formations will help to solve common issues and meet the new and growing business demands of all parties doing business in the Bakken. The North Dakota State Fair Center in Minot has been reserved as the venue for this unique event. This will be the most inclusive, all-encompassing Bakken-oil-related event to date!

The Bakken Oil Workers & Oil Service Expo will gather together oil companies, oil products and service suppliers, and supporting business who are servicing the Bakken now, as well as companies and organizations planning to bring business to the region in the future. Unlike typical oil industry shows, this show will include vendors presenting products and services of particular interest to oil workers. These vendors will showcase cold weather equipment and supplies, shower and laundry services, small-living-space products, food and nutrition, money management services, communications products and services, clothing and gear, and all-terrain vehicles to name just a few.  Businesses and services related to community growth and infrastructure support are also a part of this event.  Addressing community issues, along with the unique needs of the oil industry and the rugged individuals who work in the industry will benefit not only the oilfield workers, but their families and employers, the communities they live in, and the industry as a whole.  Our hope is to help foster bonds and good will that will last far beyond the duration of the Expo.
Exhibit space is available for over 600 indoor exhibitors, and more than 600 outdoor exhibitors.  Companies may sign up for both indoor and outdoor space – you are not limited to just one or the other.  Exhibitors will be organized in two primary categories with sub-category sections:
Oil Companies, Oil Services, Suppliers, Investors, and Support:  This may include, but is not limited to the following:

Oil Companies
Equipment Suppliers
Engineering
Logistics
Tools and Equipment
Housing and Mancamp Living
Investors
Staffing
Billing and Administrative
Trucking, Automotive, Vehicles, & Accessories
Supporting City Infrastructure



Oil Worker Lifestyle:  This may include, but is not limited to the following:

Cold weather gear
Automotive, Vehicles, & Accessories
Industry Information & training
E-commerce for food, clothing, and more
Health
Fitness
Power sports & Entertainment
Home & Lifestyle
Job Opportunities
The future & financial services
Please see the Exhibits page for more information and to reserve booth space. 
In addition to the expo, seminars will be offered covering topics of interest to oil companies, suppliers, oil workers and staff, the Expo will explore ways to learn from each other and enhance the Bakken experience for all parties. A menu of short (one hour) seminars will be offered for $99/day. Participants can attend seminars in the morning and afternoon, as well as browse the various exhibit halls.
Sign up for exhibit space and sponsorship opportunities today. By signing up early, you will be among the first to choose your exhibit space location in the exhibit hall.  Space will be assigned on a first-come-first-served basis. There are huge opportunities for sponsorships which will provides companies and organizations the opportunity to set themselves apart.

We look forward to seeing you there!